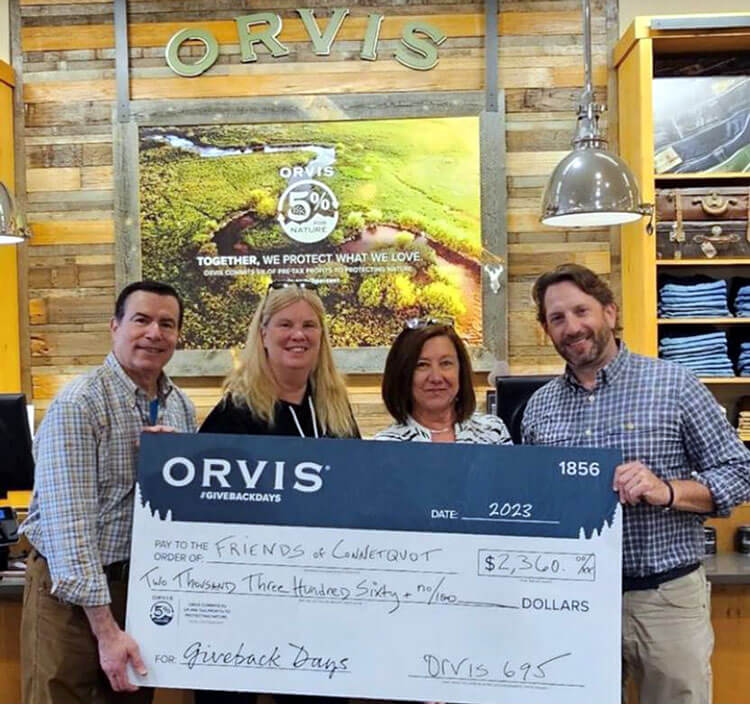 Orvis Partners with Friends of Connetquot AGAIN!
The Fall 2023 Great Giveback Days Program
Friends of Connetquot are delighted and excited to be selected again to be partnering with Orvis for the September Great Giveback Days Program. This spring, we received over $2,000! All money raised will be go towards everything "fishing"; Nets, waders, additional rods and reels, lumber for site repairs or the nursery project or anything that's needed!
Pick up a Giving Card from the Connetquot Administration Building and then bring the card to the Orvis Store located in Garden City during the month of September. Donate $10 to Friends of Connetquot through the program and as a thank you, you'll get 10% off your total purchase that day. The holidays are right around the corner! If you are thinking about purchasing a new reel or rod, 10% is a nice savings!
Pictured above holding the BIG CHECK – Orvis Store Manager Fred Versaci, FOC Director Carole Scaildone, FOC President Janet Soley and Orvis Fishing Manager Chris Vlacich. Photo by Tom Scaildone.