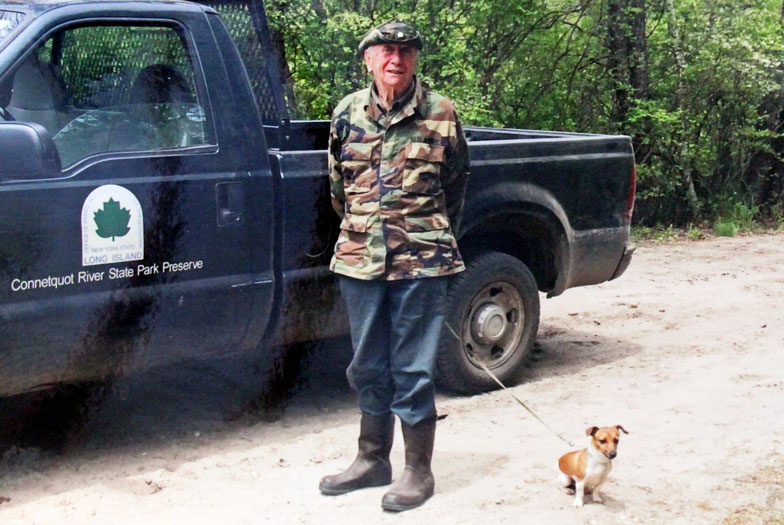 Gil Bergen was born December 15, 1929 and grew up at Westbrook Estate in Great River (built in 1886 and owned by William Bayard Cutting) where Gil's father was the herdsman for Cutting's prize-winning Jersey cows. The estate was just across the highway from the Southside Sportsmen's Club. Gil started working at 14 years old in the Westbrook Farm cow barn, milking and feeding the cows and going to school.
According to Gil, one day he was looking over the fence at the old gentlemen fishing and snuck into the Southside Sportsmen's Club. He got brave and made his way to the kennels when the dogs started to bark. He thought "Oh! I'm in trouble", but then ran into some of the guides and other people that he knew. He started working part time at the Southside Sportsmen's Club in 1945 as a sixteen year old, first guiding some of the members fishing. Several members would have him carry their gear, help net the fish and clean them, put them in a basket and wrap them in a package, ready to go to New York City. Gil used to say that his parents taught him to listen, learn and be polite, which were the lessons he used in working at the Southside Sportsmen's Club and throughout his life. As time went on he became a dog handler and then a professional dog trainer for Labrador Retrievers. He once took Second Place in Field Trials. Gil always had a dog but switched over to smaller Terrier breeds in his later years.
He eventually became the Superintendent of the South Side Sportsmen's Club from 1960 (when he was 30 years old) to June 6th, 1963, when New York State bought the Sportsmen's Club for $6,192,000.00 dollars for parkland. The membership was given a ten year lease as part of the sale and Gil was the Superintendent of The Connetquot River Club Inc. for its ten years of existence.
Taking Over as Park Manager
In 1973 Gil became the Park Manager when New York State purchased it and it eventually became the Connetquot River State Park Preserve. He was still the Park Manager when he died in his 89th year on Wednesday evening, April 4. 2018. Gil spent 58 years managing the beautiful 3,473 acre property and spent two years in the Army prior to 1960. He was a "hands-on" Manager and knew how to do everything. He worked very hard at the Hatchery propagating trout and stocking the streams so that every fisherman would have an excellent experience. Gil knew every inch of the Preserve where he either rode his horses, walked or drove around checking on poachers, ensuring that equestrians were riding with permits and were on the right trails, inspecting the streams to make sure fishermen were in the correct places, and ensuring users that his beloved park was being enjoyed by the countless visitors. From the time the Friends of Connetquot was formed over twenty years ago, Gil worked constantly with the Board to continuously improve the buildings, grounds and programming. He diligently managed to maintain the Park as "a bit of Long Island….the way it used to be".
In his job, Gil met hundreds of successful and interesting people (Governors, Senators, Congressmen, Biologists, etc.) and their families and clients. He was often invited to parties at their town houses in New York City and their Long Island estates and was a guest of the Angler's Club and Explorer's Club. Besides being a consummate sportsman, he was an avid reader. He was a very good horseman and was invited to go riding and fox hunting with some of those acquaintances. In addition, because Gil was a good fisherman and a great shot, he was often invited to go Salmon fishing in Canada and asked to travel to Scotland for Grouse shooting and also hunted Quail in the south. He was well-respected and made many friends in his years at the Club and the Park and is thought of as a Legend. It is the end of an era and he will be sorely missed.
Gil lived on the grounds of Connetquot River State Park Preserve from 1957, where in the end, he laid peacefully in a bed overlooking the moonlit Main Pond when he passed away, as was his desire.
---
Another great piece about Gil posted on the
Long Island History Project website...or listen below.
---
See Gil in this video recounting the history of the South Side Sportsmen's Club