Saturday, May 6, 2023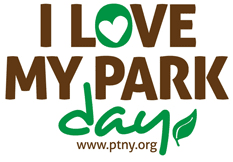 I Love My Park Day is an exciting statewide event to improve and enhance New York's state parks and historic sites and bring visibility to the entire state park system and its needs. Volunteers from across the state will participate in cleanup, improvement, and beautification events at New York State parks and historic sites. Volunteers will celebrate New York's state park system by cleaning up park lands and beaches, planting trees and gardens, restoring trails and wildlife habitat, removing invasive species, and working on various site improvement projects.
If you love Connetquot, please plan on coming to the Preserve on Saturday, May 6th and join the Friends as we join together to help maintain the beauty of our treasured state park and historic site.
Those interested in volunteering in the project at Connetquot River State Park Preserve can register in early April at www.ptny.org/ilovemypark
Next Event: May 6th, 2023
Where: Connetquot River State Park Preserve, Main Building