Coaching Along the Great South Bay
Saturday, December 11, 2021 - 1:00 p.m.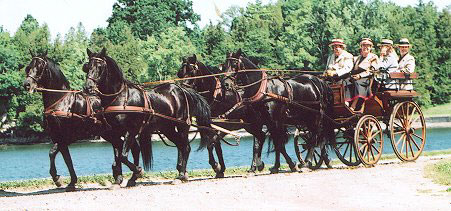 "COACHING ALONG THE GREAT SOUTH BAY" is a look back at traveling with a coach and four in hand from New York City to the estates along the Great South Bay by members of the "Coaching Club" many of whom were also members of the Southside Sportsmans Club. A glimpse back at the route they took, their Gold Coast Estates and the logistics of such a journey.Mr. Trapani will talk about the houses, clubs and residents who traveled to the Great South Bay. From the birthplace of American polo on the legendary fields of The Meadow Brook, come hear about our Island's Equestrian history.
About Our Speakers
Jerry and Rita Trapani own Shadbelly Farm in North Great River. They are members of the Carriage Association of America, the American Driving Society, the Four in Hand Club, and are founding members of the 37 year old Paumanok Driving Club of Long Island and very involved with the carriage and coaching aspects of the Long Island Museum at Stony Brook. Jerry is a popular speaker at carriage related events around the country and Canada. Rita is an accomplished artist and photographer. For more information on the Trapanis, please visit their website www.shadbellyfarm.com.
Recap
It was almost a full room for Jerry and Rita Trapanis lecture today. Jerry kept the members engaged for over an hour talking about Coaching along the Great South Shore, the coaching history as well as many entertaining stories of NYC coaches. Do you know the difference between a Gray and Black Coachman's hat? Google it up! Fascinating! The Q&A portion went on for another 30+ minutes. Besides their beautiful period outfits, the audience was treated to Jerry showing us how to "4 in hand" and Rita's beautiful voice sang Coaching songs! Thank you Jerry and Rita for a delightful afternoon! All Friends wish you well and a very happy New Year!