The Cuban Giants - The First Professional Black Baseball Team
Celebrating Black History Month
Saturday, February 25, 2023 at 1:00 pm
Presented by Mary Cascone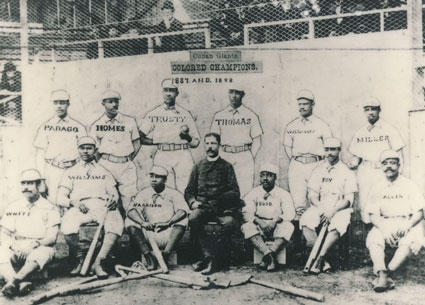 The Cuban Giants - the First Professional Black Baseball Team - got their start in Babylon, in the summer of 1885. Town of Babylon Historian Mary Cascone will present on the team's start in Babylon and their early years in professional baseball, the myths about their name and their position in baseball history.
About Our Speaker
Mary Cascone has worked in the Town of Babylon, Office of Historic Services, since 2006, and was appointed Town Historian in 2014. Her projects for the Town of Babylon have included seven local history books, more than 20 historic markers, creation of the Town of Babylon History Museum, and a history blog - https://tobhistorian.blogspot.com.
Lectures are free for members of Friends of Connetquot. Non-members pay $5/person. Please consider becoming a member and enjoy our programming all year long. Seasonal parking rates apply.
Register with the form below