Grow More with Less: Sustainable Garden Methods: Less Water – Less Work – Less Money
Saturday, February 26, 2022 - 2:00 p.m.
Presented by Vincent Simeone - Director, Planting Fields Arboretum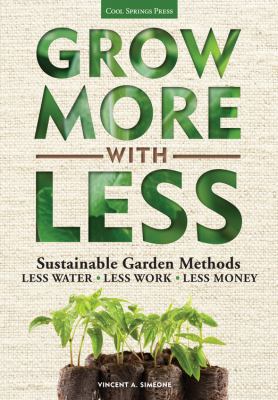 Horticultural expert Vincent Simeone will discuss how you can plan your green garden. With detailed, strategic timelines for both short-term and long-term gardening techniques, you will learn the steps to creating an efficient, sustainable home landscape. Vincent Simeone will explain why we should plant for the long-term, how to make the best plant selections possible, how to manage invasive species, how to make the most of your lawn, how to conserve water with proper irrigation, installing rain barrels and cisterns, and more. With his effective, time-proven recommendations, field-tested in a large botanical garden and adapted for home use, this lecture will give you a complete step-by-step personal roadmap for green gardening. Mr. Simeone will have books on site for sale and autographs!
About Our Speaker
For the past 23 years Vincent Simeone has worked in public horticulture at Planting Fields Arboretum State Historic Park in New York where he is the Director. He has specialized expertise in woody plant id, culture, use and selection of superior varieties. He has spoken to many groups nationwide and has appeared on garden shows including Martha Stewart Living and HGTV. He has written and contributed to various gardening articles for magazines and newspapers including the Long Island based newspaper, Newsday. Since 2005 he has published six books: Grow More With Less: Sustainable Garden Methods, Great Flowering Landscape Shrubs, Great Flowering Landscape Trees, Great Landscape Evergreens, Gardeners Guide to New York and New Jersey and The Wonders of the Winter Landscape. In 2010, Vincent was named Man of the Year by the Long Island Nursery and Landscape Association. In 2014 Vincent was awarded the centurion award by Farmingdale State College as the top 100 alumni over the past century. In 2015, was awarded the distinguished arborists award from the NYS Arborists-ISA chapter.
Lectures are free for members of Friends of Connetquot. Non-members pay $5/person at the door. Please consider becoming a member and enjoy our programming all year long.
Seasonal parking rates apply.
Register with the form below