Idle Hour: Home of the Royal Fraternity of Master Metaphysicians
Sunday, June 12, 2022 - 1:00 p.m.
Presented by Janice Fischer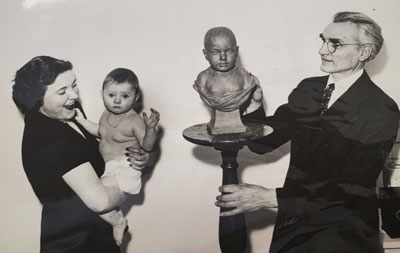 Baby Jean the Immortal Baby
Join us to learn about the history of Peace Haven, Oakdale, NY. In 1938 James B. Schafer purchased Idle Hour from the Vanderbilt Estate. He renamed it Peace Haven and begun the task of revitalization after 9 years of neglect. July 4, 1938 was the grand opening of Peace Haven and it became home to the Royal Fraternity of Master Metaphysicians. The group believed that thought could manifest material outcomes and believed immortality was achievable. To attain that end Baby Jean became an experiment in eternal life. Peace Haven operated as a faith center, retreat center, learning center, an upscale hotel and youth camp. The Royal Fraternity of Master Metaphysicians at its peak had two thousand members. Yet, neither the founder nor the place achieved immortality.
About Our Speaker
Janice Fischer is a longtime resident of Oakdale. She taught AP World History and was Advisor to Model United Nations at Connetquot High School. Janice was recognized as one of Long Island's Best Teachers by the Harvard Club and was designated by UNAUSA as a field expert in the creation of Global Classroom's Economics of Globalization. Janice has had an avid interest in researching both Peace Haven and Pepperidge Hall for decades.
Lectures are free for members of Friends of Connetquot. Non-members pay $5/person at the door. Please consider becoming a member and enjoy our programming all year long. Seasonal parking rates apply.
Register for this lecture below: