Recognizing Women: Celebrating Women's History Month
Women in Long Island's Past: A History of Eminent Ladies and Everyday Lives
Saturday, March 11, 2023 at 1:00 p.m.
Presented by Natalie A. Naylor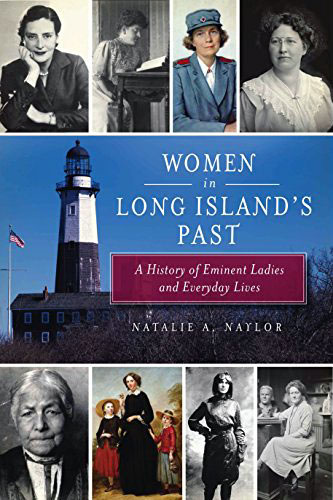 Women have been part of Long Island's past for thousands of years but are nearly invisible in the records and history books. From pioneering doctors to dazzling aviatrixes, author Natalie A. Naylor brings these larger-than-life but little-known heroines out of the lost pages of island history. Anna Symmes Harrison, Julia Gardiner Tyler, Edith Kermit Roosevelt and Eleanor Roosevelt all served as first lady of the United States, and all had Long Island roots. Beloved children's author Frances Hodgson Burnett wrote The Secret Garden here, and hundreds of local suffragists fought for their right to vote in the early twentieth century. Discover these and other stories of the remarkable women of Long Island.
About Our Speaker
Natalie Naylor was on the faculty of Hofstra University for more than thirty years where she taught Long Island history, women's history, and other courses in American social history. She was director of the Long Island Studies Institute at Hofstra from its founding in 1985 until she retired in 2000. Dr. Naylor was president of the Nassau County Historical Society for twelve years and has been editor of its annual Journal since 1991.
Friends of Connetquot are delighted to host the Long Island Library Resource Council's traveling Exhibit entitled Recognizing Women's Right to Vote in New York State.
The exhibit follows the path to Women's Right to Vote in New York beginning with the influence and authoritative power of the Haudenosaunee (Iroquois) women. The exhibit continues through time, highlighting the early cooperation between black and white women, the creation of the Colored Woman's Equal Suffrage League of Brooklyn in the late 1880s, the organization of the Men's League for Woman Suffrage in 1909, the Suffrage march from Manhattan to Albany and Washington, the impact WWI had at home and abroad, passingof the Equal Rights Amendment. The exhibits concludes in "modern history" with the Women's March in 2017. The exhibit will be on site March 11 through the 23 and available for viewing during Clubhouse open hours.
Lectures are free for members of Friends of Connetquot. Non-members pay $5/person. Please consider becoming a member and enjoy our programming all year long. Seasonal parking rates apply.
Register with the form below