Greetings Friends!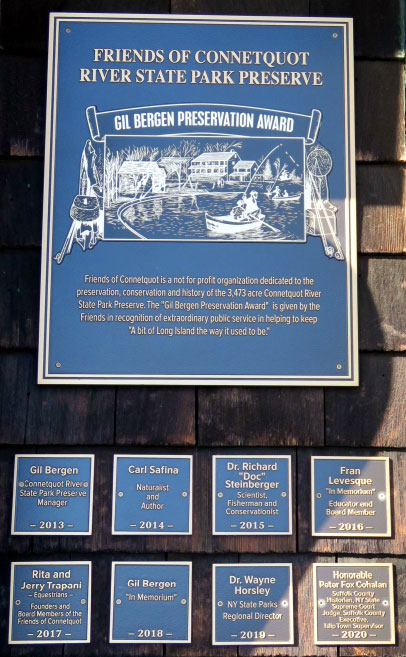 This has been such a difficult time for so many people. Our hopes are that you stay healthy as we deal with this miserable virus. Everything, everywhere, has altered and many have suffered. Our hope for all of you is that you stay healthy and the New Year goes back to normal.
Our Mid-Year Appeal has been very successful, and we thank everyone who contributed. We are working on two important aspects of the Preserve: One is restoring the tin ceiling in the Fish Room, which the South Side Sportsmen's Club utilized for fish and game; the second is renovating the old Ice House into what will be the "Ice House Interpretive Center."
In lieu of our Annual Gala, we decided to do a Virtual Raffle, which will end on December 21st. This was put together by Board Member Janet Soley, with assistance from Rita and Jerry Trapani and several other Board Members. It is our desire to raise money for the two projects via raffle tickets purchased for some interesting prizes. We normally would have had our "Gil Bergen Preservation Award" presented to the Honorable Judge Peter Fox Cohalan, but again, Covid prohibited us from holding the event. We now have special plaques (thanks to Richard Remmer) at the front of the Main Building which show the past recipients along with our 2020 designee. (Photo right.)
We hope that we can make this Christmas more joyous by engaging in some acts of charity, thus furthering our chances of also enjoying an optimistic New Year. May the storyline of our Christmas carol be a holiday full of appreciation and a New Year full of expectations and that this festive season (whether it be Christmas, Hanukkah, or however you celebrate), will fill your heart with peace and joy. Happy Holidays!
Sincerely,
Ginny Fields
---
Past President's Letters:
Summer 2023
Spring 2023
Winter 2023
Fall 2022
Summer 2022
Spring 2022
Winter 2021
Fall 2021
Summer 2021
Spring 2021
Winter 2020
Fall 2020