Greetings Friends!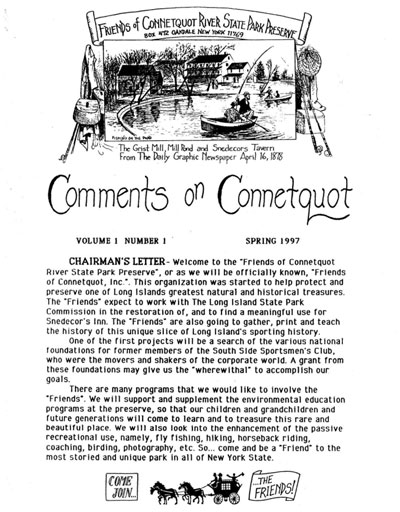 How quickly time flies! Spring is here. The daffodils and skunk cabbage are popping up. Daylight savings time has ended, days are warmer, masks are no longer required, and positivity rates are dropping like May Flies. Looks like it will be a great spring!
It's hard to believe that we are entering our 25th year as the Friends of Connetquot. Please enjoy reading our inaugural Newsletter cover story in this newsletter. Since our inception, we've done amazing things to help with the preservation of this landmark. Here's just a few of our accomplishments:
Commissioned and supervised the installation of a fire Suppression System in the Clubhouse.
Restored the Nicoll Grist Mill.
Spearheaded five years of advocacy, fundraising and project management required to reopen the historic trout hatchery after it was closed by NYS in 2009. Tight lines now!
Restored the 19th century stained-glass transom window over the Main Entrance.
Returned Eliphalet Snedecors' portrait to the Clubhouse.
Located and returned the Astor House Stove from the New York Historical Society.
Secured funds and purchased many artifacts, paintings and furniture in the Clubhouse.
Restored the Kitchen floor, Lady's and Men's Dining Rooms and two Period Bedrooms.
Purchased a trail grooming tool to rehab and maintain the trails for equestrians and hikers.
And so much more!
Since our last Newsletter, we received two grants! Did you see the articles in Newsday or Suffolk County News? Heard my squeaky voice on CBS Radio? LOL! There's more info on the grants in this newsletter but if you know someone in their 90's that grew up in Islip, put a toe into the Connetquot River, I want to talk to them for our South Shore Memories Project funded by LILRC.
Earth Day Planting and I Love My Park Day Registration is now open. Volunteer opportunities abound. Check the website for what's going on. Do you have an idea for a project? Contact the Friends. And YES! I will reply.
Sincerely,
Janetmarie Soley
---
Past President's Letters:
Summer 2023
Spring 2023
Winter 2023
Fall 2022
Summer 2022
Spring 2022
Winter 2021
Fall 2021
Summer 2021
Spring 2021
Winter 2020
Fall 2020