The Friends of Connetquot Scholarship
The Friends of Connetquot River State Park Preserve will be awarding one $500 Scholarship to a Junior or Senior student in a local Town of Islip High School. It is our desire to invest in the education of young people in our community as we aim to encourage them to value and help preserve Long Island's open space, as well as its historic and cultural history.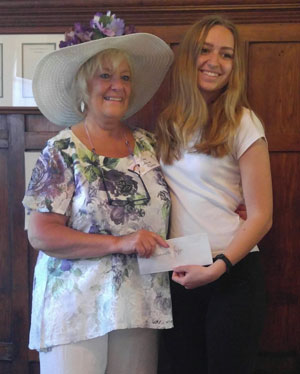 Samantha Jaggi receiving their FOC scholarships from FOC President Ginny Fields.
Interested students are urged to apply but must follow the eligibility requirements:
The student must be a Town of Islip resident
The student must attend a local high school
The student must demonstrate a solid academic record
The student must embody community involvement and leadership
The student must submit an essay, not to exceed 1,000 words, focusing on the attributes of the Preserve to show an understanding of the importance of the Preserve. Suggested topics are Trout Lifecycle, Southside Sportsman's Club, Historical Figures, the Grist Mill, Animal or Plant Life of the Preserve.
To apply, please fill out the application. Send the application and essay by April 15th to::
Friends of Connetquot Scholarship Committee
Box 472
Oakdale, N. Y. 11769
Please contact us with any questions.
Final selection of the scholarshiprecipient will be made by the Friends of Connetquot Board of Directors based upon the recommendations of the Scholarship Committee and awarded on May 1, 2021.