2023 Scholarship Winners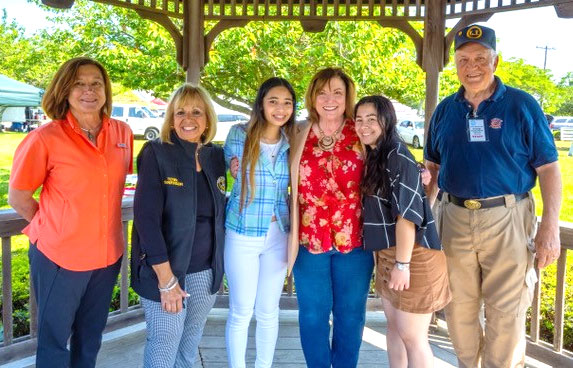 This year's Friends of Connetquot scholarship winners were announced on Sunday, June 11, during Living History Day at the Sayville Grange. This scholarship was based primarily on volunteer hours, with the hope that student involvement would create a new generation that loved Connetquot River State Park Preserve.
Our scholarship winner is Nicolle Perea from Central Islip High School. Nicolle was awarded our $1,000 scholarship. Nicolle completed 20 hours, 35 minutes of volunteer work at the Park Preserve, including helping with: holiday decorating, the Luna Walk, Family Game Night, club house cleaning (twice) Tiny Tots, Snowflake, and Lee Krasner Art. Nicolle's participation even included dressing in animal costumes to help children with animal quizzes. She will be attending Stony Brook University with a major in Biology.
Our runner-up, Sarah Vasquez, is from East Islip High School. She was awarded a $200 Visa gift card. Sarah completed 14 hours, 20 minutes of volunteer work on programs at Connetquot, including helping with the Haunted House, Railroad Lecture, Holiday Decorating, History Project. Sarah has been an indispensable part of our activities. She will be attending Catholic University with a major in Nursing. These young women embody leadership characteristics of determination, commitment, competence, as well as empathy and vision. Both intend to continue their service to others in their future occupations.
L. to R.: FOC President Janet Soley, Islip Supervisor Angie Carpenter, Nicolle Perea, Janice Fischer, Sarah Vasquez and Islip Town Historian George Munkenbeck. Photo taken by Daniel Goodrich
---
About the FOC Scholarship...and Other Volunteer Opportunities
Friends of Connetquot River State Park Preserve will be offering a $1,000 scholarship to a local high school senior. (High Schools in the Town of Islip)
The goal of the scholarship opportunity is to promote the beauty, wildlife, and activities of Connetquot River State Park Preserve. This park preserves the natural magnificence of the land and water as it was before roads, highways and development changed the landscape. Candidates for this scholarship will volunteer at Connetquot River State Park, take a picture of the park, and write a sample letter to a friend about the wonders of the park.
Eligibility: Must be a 12th grader, must be in good standing (no failing grades, no discipline problems), must fulfill volunteer hours during Senior Year between September and April.
Volunteer hours for the scholarship must be at Connetquot River State Park Preserve. In addition to the volunteer hours at Connetquot River State Park Preserve there are other volunteer opportunities. These opportunities at other state parks do not qualify for the scholarship but may be used as community service hours for other organizations.
Scholarship candidates may earn their scholarship application hours through several venues via the NYS Parks Regional Environment Office. This office is located in Connetquot River State Park Preserve.
Scholarship candidates may earn their hours by working alongside park volunteers in the Stewardship Saturday Project. Although the Saturday program is involved in projects in a variety of state parks across Long Island, scholarship candidates may opt to join in when a project is specifically scheduled at Connetquot. The hours for this project are from 9:30am until about noon on almost every Saturday of the year.
Scholarship candidates may also create their own project. These projects would also be coordinated through the Environmental Office. Although the hours for these projects would be flexible, Saturday afternoons would most likely make the best fit.
Either of these venues could accommodate individuals or small groups of students.
Environmental and/or outdoor clubs may also participate in these programs whether or not the students involved are applying for scholarships. All students are welcome!
Scholarship candidates must first contact the friends to begin the volunteer hours.
For community service in the Stewardship Saturday Project contact: George.Kiesel@Parks.NY.Gov