The Gentlemen of the South Side Sportsmens Club were some of the most powerful and influential persons of their time, as were their mothers, wives and daughters. In celebration of Women's History Month, we highlight the lives of three amazing SSSC women.
Louisine Waldron Havemeyer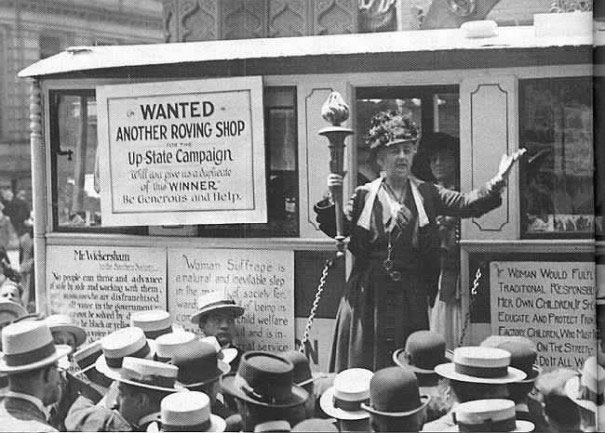 Louisine Waldron Havemeyer was an art collector, feminist, and philanthropist. In addition to being a patron of impressionist art, she was one of the more prominent contributors to the suffrage movement in the United States.
With her husband, Louisine would build one of the finest art collections in America. Her mansion at Fifth Avenue and East 66th Street in New York was filled with the finest works by Manet, El Greco and Rembrandt. After her husband's death in 1907, Mrs. Havemeyer focused her attention on the women's suffrage movement. In 1912 she lent her artist collection to Knoedler's Gallery in New York to raise money for the cause.
In 1913, she founded the National Woman's Party. A famous photograph of Mrs. Havemeyer shows her with an electric torch, similar in design to that of the Statue of Liberty Upon her death, nearly two-thousand works of art were given to the Metropolitan Museum of Art in New York City that enrich nearly every segment of the museum's collections.
Sarah Larkin Loening
Sarah Larkin Loening was a writer who founded the Biblical Garden at the Cathedral of St. John the Divine. Mrs. Loening donated the money to buy the original plants for the Biblical Garden, which was established in 1973, containing varieties of plant life mentioned in the Bible. She remained the head of the organization operating the garden, which has been seen by thousands of visitors, on the grounds of the Episcopal cathedral at Amsterdam Avenue and 112th Street.
Mrs. Loening was the author of 10 books, most of them under the name Sarah Larkin. Her first was ''Three Rivers'' (1934), a narrative in blank verse about French settlers in Canada.
Mrs. Loening was the widow of Albert Palmer Loening, an early leader in the aircraft industry who was a founding stockholder and director of the Grumman Aircraft Engineering Corporation, which later became the Grumman Corporation. They met in France while she was there with the American Committee for Devastated France.
Marion Hollins
Marion Hollins was the daughter of SSSC member Harry B. Hollins. Marion is best known for her development of world class golf courses: such as Pebble Beach, Augusta National, Cypress Point and Pasatiempo. However, Marion was also the Queen of the Road. This article, reprinted with permission of the Carriage Association of America, chronicles Marion's outstanding prowess as an equestrian, Four-in-hand coach and an American patriot.