The Friends of Connetquot Scholarship
The Friends of Connetquot are pleased to announce a Scholarship opportunity for either Junior or High School students. A Friends of Connetquot River State Park Preserve Scholarship in the amount of $500.00 will be awarded to a local student. It is our desire to invest in the education of young people in our community as we aim to encourage them to value and help preserve Long Island's open space, historical and cultural history.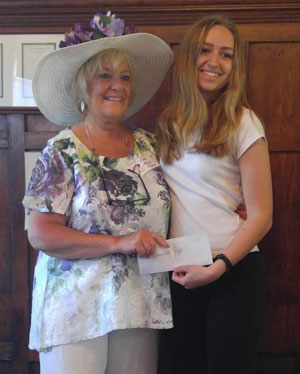 Samantha Jaggi receiving their FOC scholarships from FOC President Ginny Fields.
Interested students are urged to apply but must follow the eligibility requirements:
The student must be a Town of Islip resident
The student must attend a local high school
The student must demonstrate a solid academic record
The student must embody community involvement and leadership
The student must commit to assisting the Friends of Connetquot (FOC) in their mission to preserve the Connetquot River State Park Preserve as follows:
For at least a minimum of 15 hours, the student is expected to participate in FOC endeavors (fundraisers, programs, lectures, etc.) by volunteering and performing assigned duties which include, but are not limited to, helping set up and clean up and assisting prior to and following an event or activity, such as:
The student must submit an essay (not to exceed 1,000 words) focusing on one or more of the attributes of the Preserve, its historic and/or environmental value, and the importance of its continuation for future generations.
To apply, please fill out the Letter of Interest, stating the student's name, address, school, home and cell telephone numbers and email address and mailed to:
Friends of Connetquot Scholarship Committee
Box 472
Oakdale, N. Y. 11769
Please contact us for current deadline information or other questions.
Final selection of scholarship recipient will be made by the Friends of Connetquot Board of Directors based upon the recommendations of the Scholarship Committee.